Welcome to My Site — This is the third incarnation of the Scissors & Paste website, and is once again, hopefully, an improvement on its predecessors, at least in design. Much of the credit for this must go to the long-suffering Sheryl Straight, whose patient advice, particularly on the mysteries of Cascading Style Sheets, has been invaluable.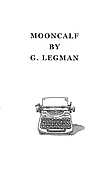 Just Published — Having had the privilege of being one of the few people who've seen the original MS of the late Gershon Legman's monumental autobiography, Peregrine Penis, and being also one of a number of the lucky folks who assisted in 'word processing' it, I am more than happy to announce that its publication has now begun. Book One, I Love You, I Really do (in two volumes), and Book Two, Mooncalf (illustrated here) are now available from Amazon, and I cannot recommend them highly enough. I Love You, I Really do is a marvelously detailed account of Gershon's early life through his teens in a working-class Jewish family in Scranton, Pennsylvania. Mooncalf recounts his education and developing literary pursuits in New York, together with early meetings with the erotica publishers Sam Roth and Jake Brussel.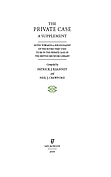 I am also pleased to announce, belatedly, the publication of The Private Case – A Supplement, the sequel to my 1981 catalogue of the British Library's erotica collection. In its 148 pages, this new book lists over 900 titles which were at one time in the Private Case, but removed to less restricted quarters prior to the compilation of the 1981 work. Described by an enthusiastic German critic as 'a treat for the eye' – a tribute to its beautiful design and typography by my co-compiler Neil Crawford – copies may be obtained from myself, Patrick Kearney for US orders, and Neil Crawford for UK and European orders. The issue is limited to 250 copies, and includes a lengthy Introduction on the history of the collection.

Old books Future Plans — I am, as always, casting about for new projects to publish on this site, not an easy task. One that has been completed is a bibliography of the clandestines of Jean-Jacques Pauvert, inevitably a rather short compilation since unlike his contemporary, the late Eric Losfeld, Pauvert seemed uncomfortable publishing secretly and more interested in challenging French censorship head-on. Notes towards a listing of the works of the prolific Alphonse Momas ['Fuckwell,' 'Le Nismois,' &c] have also been posted.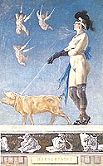 Additions & updates — Since this site's been up, I've made a good many changes. Some have not been obvious–the addition of a new work or addition to a catalogue, or the silent correction of blunders when they pointed out to me. Observant visitors, however, may have noticed a sudden sprinkling of 'new' and one 'updated' labels, and I have indeed been busy accumulating new material. Some is of marginal interest, erotically speaking, such as the reprint of Henry Spencer Ashbee's short account of a trip that he made to Coney Island in the 1880s, but I am happy with the pages devoted to John Stephen Farmer, the noted lexicographer, and the greatly expanded catalogue of the contents of the British Library's 'Supressed Safe' collection of books locked away for libel or other reasons. The augmentation of this latter was so great that I was obliged to put it up on my site as a .pdf file. The J.S. Farmer page grew out of the discovery of some curious information concerning his private life; the research wasn't mine alone, but I felt it was of sufficient interest to add as part of the preliminary matter to a short-title catalogue of his publications.